PTSD Community Education and Entertainment
Isolation is the leading cause of veteran suicides. By using story, song and even humor to educate civilians about the truth of our veterans' experiences and struggles with military Post Traumatic Stress Warrior Songs is able to reach a wider audience. These programs often help civilians understand their responsibility in veteran healing. By changing the way we think and act we can open the way for veterans to move out of isolation and desperation, toward healing.
PTSD has reached an epidemic level among servicemen and women with an average of 22 veterans committing suicide each day, that's one every 65 minutes. Our presentations identify the early signs of isolation, explains the devastating feeling of desperation, and offers creative, effective strategies which help those who are stuck in the grip of PTSD to reconnect with life and with those who love them.
Show topics include: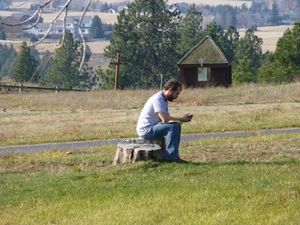 How PTSD affects our veterans after they return home
Reasons why current war conditions create and compound PTSD
Why welcome home parades and ceremonies don't work
Helping civilians understand their role and responsibility in war healing
Seven things not to say to a veteran
Practical ways to help veterans reintegrate and connect with family and community
Why incidents of suicide are epidemic among soldiers and veterans of current conflicts
What you and/or your group can do to help ease the burden of veterans
PTSD Education Presentation
Jason Moon uses science, humor, storytelling and his personal experience to weave together an entertaining and educational investigation into the world of military PTSD. Through music and song Jason takes the audience into a deeper understanding and gratitude for what veteran's lives are like when the return from war with PTSD. His performance not only informs, but also offers real life solutions for how to listen and communicate with those suffering from PTSD. This presentation is suitable for all audiences especially for those who live or work with active duty service members or veterans.   This 90-minute presentation is available on DVD at the Warrior Songs store or at this link. 
Military Veterans Educational Encouragement performance
Jason Moon's Military Veterans Educational Encouragement performance is designed to inform and entertain our nation's veterans.  Jason uses music, story, humor, and his personal experience to encourage and inspire veterans in various states of distress and recovery.  This crowd-engaging performance creates an atmosphere where every audience member feels comfortable with their own personal struggles related to their military service.  Listeners leave knowing they are not alone and that varying degrees of recovery modalities are available to them as tools to overcome the obstacles they now face: substance abuse, PTSD, and more.  They are encouraged to us the military training they already have to overcome obstacles that stand in their way.  Moon portrays PTSD as the new enemy and offers wisdom, art, and alternative therapies as weaponry with which to engage and conquer.  This show receives outstanding reviews from veterans of all ages and combat experiences.
For more information please contact us. We would be happy to tailor an event just for you.